Did you know that almost 90% of the buyers start their shopping by searching for products on search engines and that an average user makes 3 or 4 searches on Google in one day?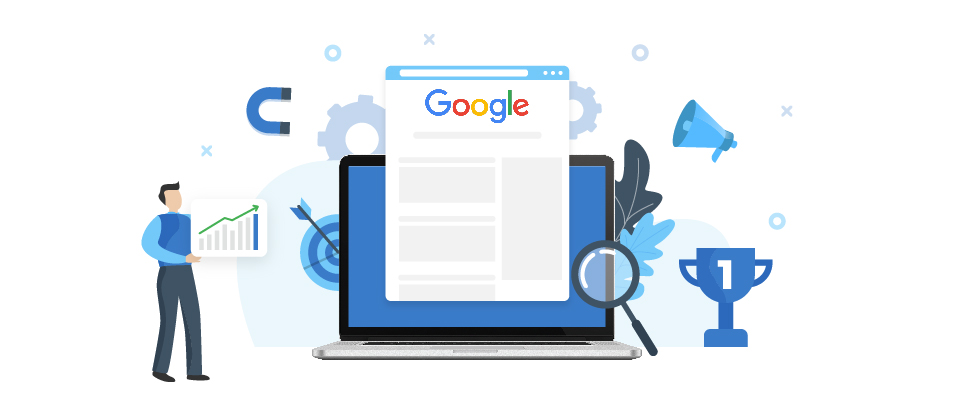 If you want potential customers to find you when they are looking for the products you offer, start Google Advertising today!
Google Ads is a platform developed by Google, and used for advertising many businesses – from small, local stores to major global corporations. Numerous possibilities and massive use makes Google Advertising not only an option, but an actual necessity of every online retailer.
With the help of Google Ads, online retailers have the opportunity to advertise their products and services on Google search results page (SERP – Search Engine Results Page), Google applications and services such as YouTube and Gmail, as well as on millions of other partner websites.
Google Search ads are text ads that appear on the search results page (a page that appears when the user searches for a particular item, such as sneakers, drills, sofas etc. on Google and partner websites). By clicking on the ad, the user is being redirected to the landing page of your website, which you defined and gives the user an opportunity to find out more and order the products he is interested in!
Be on the place that you have been looked for and take the advantages of the benefits of Google Search advertisement:
Your ad will appear precisely when users are looking for the products you're offering
Numerous targeting possibilities – choose who and when will see your ad and where your ad will appear
Advertise your business locally, in other countries or globally
Pay only when a user clicks on your ad, ensuring budget and costs control
Available reports on visits, sales via ads, as well as other indicators by many criteria, both in real time and in time frames that you define
When you want to reach a huge number of potential clients quickly and in a simple way and you are not sure that your product is recognized enough or when you want to remind customers of the products you offer or you want to advertise discounts, we recommend Google display and video ads. By placing multimedia ads on highly visited portals, websites visited by your target audience, as well as on YouTube, Gmail and mobile apps, your ad reaches a great number of users, which increases brand awareness, builds trust of the customers, spreads information, increases website visits and sales and much more.
Mobile application advertising is another feature of Google Ads service. Once your application has been placed on the store, simply find your potential users and allow them to quickly find out about your application and download it on their mobile device.
In order to make Google advertising profitable, place your campaigns to the hands of the experts in the field. NB SOFT is Google partner and its digital marketing team members are certified Google Ads professionals experienced in managing campaigns. NB SOFT and its dedicated account managers provides Google ad services through:
Comprehensive analysis of the industry, webshop and activity of your competitors
Creating an advertisement plan
Technical configuration on the web shop and Google Ads platform
Creating efficient ads
Setting up campaigns and ads with constant result monitoring and cost optimization
Regular reporting on important performance indicators and consulting