Search engine optimization (SEO) enables your products and services to be discovered by potential clients using search engines. SEO has been unsurpassed method for enhancing visibility on search engines and for increasing traffic to your website.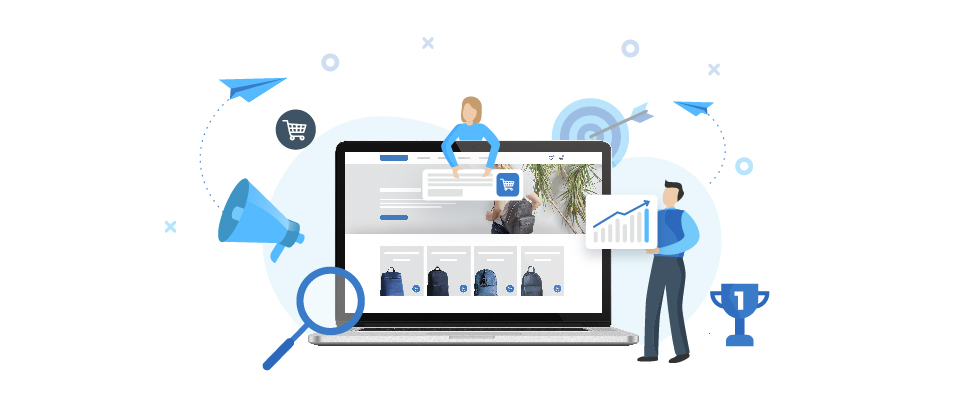 If you want to:
increase competitiveness of your company in e-commerce by comprehensive analysis of your competition
attract potential clients and allow them to buy/order your products and services because they are interested in the type of the products and services you offer
enhance the traffic to your website and increase number of sales and return of investment (ROI)
Then you should consider implementing SEO methods in your business.
Search engines are the primary gateway for potential clients to reach to your company, products and services. Having your website in the top 10 ranked results after commencing the search using relevant keywords is the best instrument for making your business highly competitive.
After the implementation of comprehensively researched strategy, tailored to fit your needs in particular, you will seize much more potential clients. NB SOFT gathers a professional team with extensive experience in digital marketing, that will make sure your online campaigns are successful and profitable.
Before commencing of every campaign we will together discuss objectives we want to achieve - increased conversion rate, number of potential clients, sales, targeted traffic or keyword ranking.
The flow of optimization process is described below:
Website examination - detailed analysis
Strategy
Optimization
Regular monthly optimization
1. Website examination
The first step is to comprehensively analyze your website. We want to examine and understand every single part of your website in order to take advantage of its strengths and to remedy its shortcomings. In addition to that, our team will analyze your company and your competition, as well as your clients, and identify the strategies and challenges.
Tasks:
Meeting (Online via Google Hangouts or Skype or else, personally) - the goal is to analyze your company, competition, clients and determining the targets
Complete analysis of your website
Analysis of competitiors' websites
Keyword researching, analysis and selection
Analyzing the present state in analytics (Google Analytics or any other tool that you use)
Surveying social media channels
Identifying primary measures

2. Strategy
In this phase we will arrange comprehensive strategy of optimization, content and conversions, in order to reach the targets defined in the previous steps.
Tasks:
Brainstorming
Generating basic report
Create content strategy
Create optimization strategy
Create strategy for building website authority
Setting goals (traffic, primary conversion rate, secondary conversion rate)
Identifying all keywords and determining convenient landing pages
Identifying essential methods for positive outcome (setting the target in analytics, user flow, etc)
Developing the strategy for the next 3 to 6 months

3. Optimization
The purpose of website optimization, as well as landing pages, is adapting for humans and search engines, by means of accurately applying previously determined strategies.
Tasks:
Reviewing of approved strategy
Applying of the strategy
Internal controls and quality assurance
Configuring Google Analytics and other tools (eg. Crazy Egg)

4. Monthly optimization
Once your website has been properly optimized, it has to be regularly maintained in order to grow and to increase its authority. The purpose of the monthly optimization is increasing the authority of the website as seen from search engine (but humans as well). Properly optimized website with strong authority will be highly ranked in search engines. However, our goal goes beyond high rankings. We want you to increase the sales of your services and products.
Tasks:
Still applying the strategy
Creating content strategy (eg. video, blogging, publishing on guest blogs and pages, infographics, videographics, widget development etc)
Optimizing content strategy (either on the website or offsite)
Link aquisition
AB testing
Quality analysis

Feel free to contact us for more information.